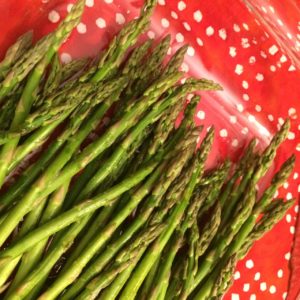 This is a classic asparagus preparation.  It is so simple people often forget it, which is a shame because it is the perfect vegetable side for a weeknight dinner.  Best of all my three kid 6 and under love eating asparagus this way.  I don't complain too much when they pick the stalks up like French fries and eat them.  I figure that healthy eating trumps table manners at this point.  I think that thin asparagus stalks are best, so that is what we try to get at farmer's market or the grocery store.  I haven't tried growing them yet, that may be an adventure for another year.
I've found that the Pinterest trick for keeping asparagus fresh in a mason jar with a little bit of water really works.  The only problem I have encountered is being able to get the asparagus out again when it was time to cook them.  All I had to do was cut about an inch off the asparagus when we brought them home and place them in a mason jar with about 2 inches of water.  I then put the jars in the refrigerator and changed the water every day until I was ready to use them.  The best part was I didn't have to cut any more of the stalk off when I was ready to bake them, which made cooking dinner even quicker last night.
---
Quick Recipe
Ingredients
1 lb fresh asparagus
olive oil
salt
Instructions
Preheat oven to 350.
Place asparagus in a glass (I use 10in x 15 in) or on a foil lined sheet pan.
Drizzle asparagus with about 2 tablespoons olive oil and season with salt to taste.
Bake for 10 to 15 minutes depending on size of the stalks.  Serve.
Serving Suggestions
Scrambled eggs and sausage
Any dinner needing a quick side vegetable