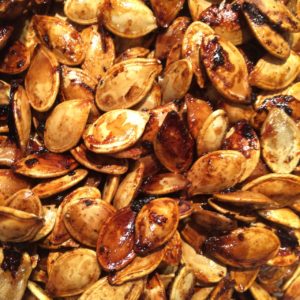 One of my favorite Halloween treats are roasted pumpkin seeds.  I make them every year after we carve our pumpkins.  This year I added a little bit of maple syrup from another recipe I was working on that night, and the results were delicious like the sweet and salty of kettle corn.  I also roasted the seeds from the other winter squash I was cooking (spaghetti squash and kabocha squash).  The seeds aren't as tasty as the pumpkin seeds, but they aren't bad and it is easy to add them.
---
Quick Recipe
Ingredients
Pumpkin or winter squash
olive oil
salt
Add-on
2 tablespoons maple syrup
Instructions
Remove seed from pumpkin or squash
Preheat oven to 350
Place seeds on one layer on a baking sheet covered with foil.  Toss the seeds with oil and season with salt to taste.
Optional-Dissolve Maple syrup in 1/4 cup of water.  Drizzle over seeds.
Bake for 35 minutes or until toasted.
Eat when cool or seal in an airtight to eat later.