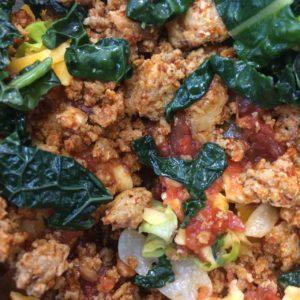 Sometimes the best recipes come from happy coincidences.  Last night I was making tacos for dinner and cooking the rest of some amazing lacinto kale my husband had picked up at our local farmer's market.  When we were out of taco shells we ended up mixing the kale and the taco toppings.  Both me and my husband loved the combination, so I knew I had to share it.  This recipe is very flexible and can be adjusted for a number of dietary preferences and allergies.
---
Quick Recipe
Ingredients
1 lb Lacinato Kale (also known as Tuscan or Dinosaur Kale)
3 cloves garlic
1 onion
1/2 lb lettuce-medium diced
1 lb fresh tomatoes (I like to use cherry tomatoes)
1 lb ground meat or meat substitute (I use turkey meat from our farm delivery service)
2 tbsp olive oil
1 packet taco seasoning or your favorite personal taco seasoning mix
salt and pepper
Optional Add ons 
I like to keep my recipes flexible to allow for what is in your pantry or refrigerator and to make adjustments for dietary preferences and allergies.
cooked corn kernels
grated cheese
sweet peppers
1/2 cup salsa (fresh or bottled)
Instructions
Wash and dry produce.
Remove stems from kale, and rough chop.  Rough chop garlic.  Medium dice onion.
Heat 2 tablespoons of olive oil in a large saute pan at medium-high.  Saute garlic and onion for 2 minutes.  Add kale cook for 2 minutes.  Add salt and pepper. Add 1/2 cup water cook for 5 minutes.
While the kale cooks brown meat or meat substitute.  Add taco seasoning and 3/4 cups of water.  Cook until the water is absorbed.
Dice tomatoes and rough cut lettuce.
Mix kale mixture, seasoned meat or meat substitute, tomatoes, lettuces, and any add on in a large bowl.  Serve.