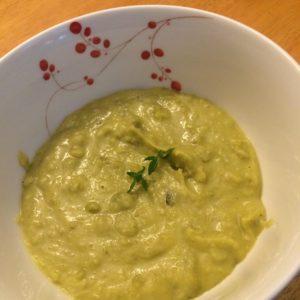 If you had told me when I was a child I would be excited about split pea soup, I would have laughed.  I am so glad that I decided to give it a try as a grown up.  It is delicious and filling.
This soup has a creamy earthiness without using any cream.  It is also really healthy.
This soup goes really well with my chicken with homemade plum sauce.
---
Quick Recipe
Ingredients
1 lbs dried split peas
2 tablespoons olive oil
1 onion
2 cloves garlic
2 bay leaves
fresh herbs from the garden (4 sprigs of thyme, 5 sprigs of oregano, 2 bunches of chives)
7 cups water
salt and pepper
Instructions
Small dice onion and mince garlic.  Wash fresh herbs. Pickoff leaves of thyme and oregano.  Finely chop chives.
Add 2 tablespoons olive oil to a large pot and heat to medium-high.  Add onion and garlic.  Add salt and pepper.  Cook until fragrant, about  2 minutes.
Add dry peas, water, bay leaves, and herbs.  Bring to a boil and then turn down the heat and simmer for 45 minutes.
Blend most of the mixture using a blender, a hand blender, or a food processor.
Add water to loosen soup if necessary.
Serving Suggestions