Chicken with Homemade Plum Sauce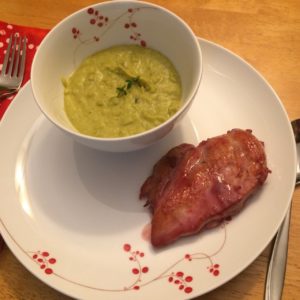 Before we had kids and moved to the suburbs my husband and I would go out to dinner at exciting eateries, farmers markets, and restaurants all over Baltimore.  I loved trying new foods and food combinations.  We don't get out as much, so I like to experiment with new (to me at least) tastes at home.
This combination was inspired by our trip to the fruit orchard and a trip down the dried beans aisle at the supermarket.  I loved the tart taste of the plum sauce with the earthy creaminess of the soup.  The preparation was surprisingly simple, but it made the dinner feel special and exciting like we were trying out a new restaurant.  This is the recipe for chicken made using my homemade plum sauce.  I served it with my creamy split pea soup.  This chicken would also taste great over a fresh salad.
---
Quick Recipe
Ingredients
homemade plum sauce
2 lbs raw chicken breasts
olive oil
salt and pepper
Instructions
Butterfly cut chicken breasts. Dry with paper towels.  Add salt and pepper to both sides.
Heat 2 tablespoons of oil in a nonstick pan to medium-high.  Cook chicken for about 4 minutes on each side until done.
Turn down heat to low. Add about 1 cup of plum sauce to pan. Simmer for 2 minutes.